Anti-vaxxers keep dragging health officials to court as US measles cases soar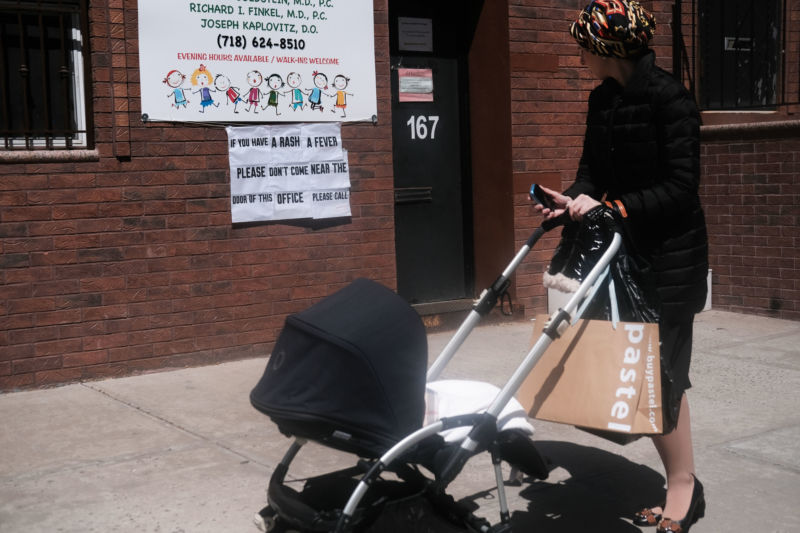 Enlarge / NEW YORK, NEW
YORK – APRIL 10: A sign warns people of measles in the
ultra-Orthodox Jewish community in Williamsburg on April 10, 2019,
in New York City. As a measles epidemic continues to spread, New
York City Mayor Bill de Blasio recently announced a state of
emergency and mandated residents of the ultra-Orthodox Jewish
community in Williamsburg at the center of the outbreak to get
vaccinated for the viral disease. (credit:
GettySpencer Platt)
Five unnamed mothers in New York City filed a lawsuit Monday,
April 15, seeking to block the city's mandatory vaccination order
in areas hit by a massive measles outbreak that has raged since
last October.
City health officials announced the order earlier this month as
they declared a public health emergency over the outbreak, which
has sickened
329 people so far—mostly children. According to the city's
order, all unvaccinated people in affected ZIP codes must receive
the Measles, Mumps, and Rubella (MMR) vaccine, prove immunity, or
have a valid medical exemption. Violators could face a fine of
$1,000.
In the lawsuit, the mothers claim that the outbreak does not
constitute a dangerous epidemic (though the virus can cause severe
complications and even death) and that the city's orders are
"arbitrary and capricious." Moreover, they allege that the MMR
vaccine has significant safety concerns (this is false; side
effects beyond mild, temporary discomfort are exceedingly rare)
and that the order violates their religious freedom.
Source: FS – All – Science – News
Anti-vaxxers keep dragging health officials to court as US measles cases soar