Barley shortages from climate change could mean less beer worldwide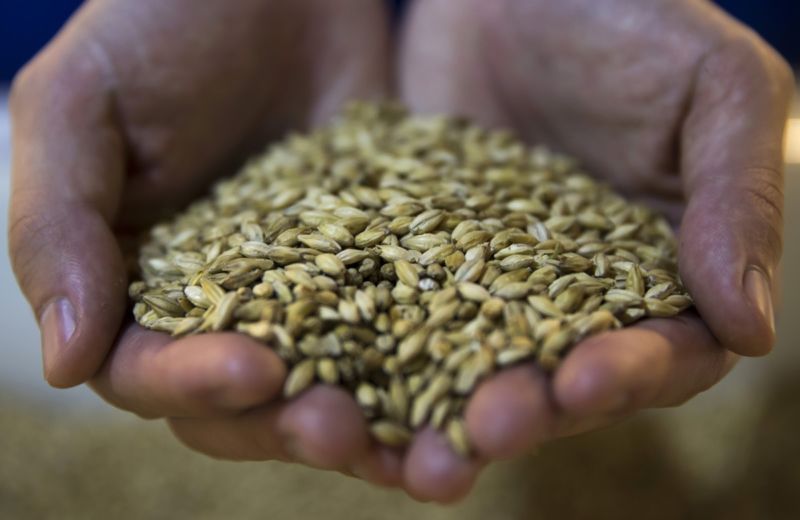 Enlarge / Barley grain used
in the production of beer at the Asahi Kanagawa Brewery in Japan
(credit: Tomohiro Ohsumi/Bloomberg/Getty Images)
There's nothing quite like putting your feet up after a long,
hot summer day and enjoying a refreshing cold brew if you're a beer
lover. But a warming climate could give rise to global barley
shortages, with a resulting shortage of beer. That's the conclusion
of a
new study just published in Nature Plants.
Beer brewers account for roughly 17 percent of the barley
consumption worldwide, although it varies from region to region,
with the vast majority of crops harvested as feed for livestock. If
barley becomes too scarce, more of it will be funneled to
livestock, since beer is technically a luxury good. The shortage of
barley will give rise to
steep price hikes and corresponding decreases in global
consumption. While the most affluent beer lovers will still be
able to indulge in a pint or two, "Future climate and pricing
conditions could put beer out of reach for hundreds of millions of
people around the world," says study co-author Steven Davis of the
University of California, Irvine.
Davis himself is a beer aficionado and home brewer, who
frequently travels to China for research collaborations. During one
such trip a couple of years ago, he spoke with a scientist at the
Chinese Agricultural Academy of Sciences, who was studying the
global supply of beer. (China is currently the largest consumer of
beer and thus would be hit hard by a severe barley shortage.) They
decided to collaborate on a study investigating the impact of
climate change on beer, partnering with other researchers in the
United Kingdom and Mexico.
Source: FS – All – Science – News
Barley shortages from climate change could mean less beer worldwide