Ebola spreads in Uganda—2 deaths, 27 in contact—as WHO calls emergency meeting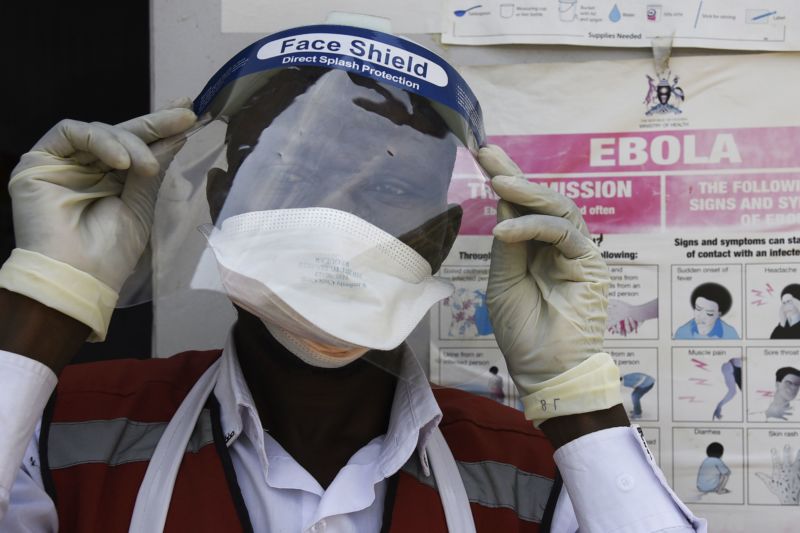 Enlarge / A health worker
puts on protective gears as he prepares to screen travelers at the
Mpondwe Health Screening Facility in the Uganda's border town of
Mpondwe as they cross over from the Democratic Republic of Congo,
on June 13, 2019. (credit:
GettyIsaac Kasamani)
Local and international health officials are scrambling to
smother a flare up of Ebola in Uganda, which spread this week from
a massive, months-long outbreak in the neighboring Democratic
Republic of the Congo. The outbreak has sickened 2,084 and killed
1,405 since last August.
Uganda announced
its first case stemming from the outbreak on Tuesday, June 11.
The case was in a 5-year-old Congolese boy who traveled across the
border with family a few days earlier. The Ugandan Health Ministry
reported shortly after that the boy
succumbed to his infection the morning of June 12. Two of his
family members also tested positive by that time: the boy's
50-year-old grandmother and his 3-year-old brother.
Today, June 13, the Ministry announced that the grandmother
had also passed. In an urgent meeting over the situation,
officials from Uganda and the DRC mutually decided to send the
remaining family back to the DRC. That includes the 3-year-old boy
with a confirmed case, as well as the mother, father, a 6-month-old
sibling, and their maid. Health officials noted that the latter
four family members are all considered "suspected cases."
Source: FS – All – Science – News
Ebola spreads in Uganda—2 deaths, 27 in contact—as WHO calls emergency meeting