EPA says appointee can accept money from secret clients for consulting gigs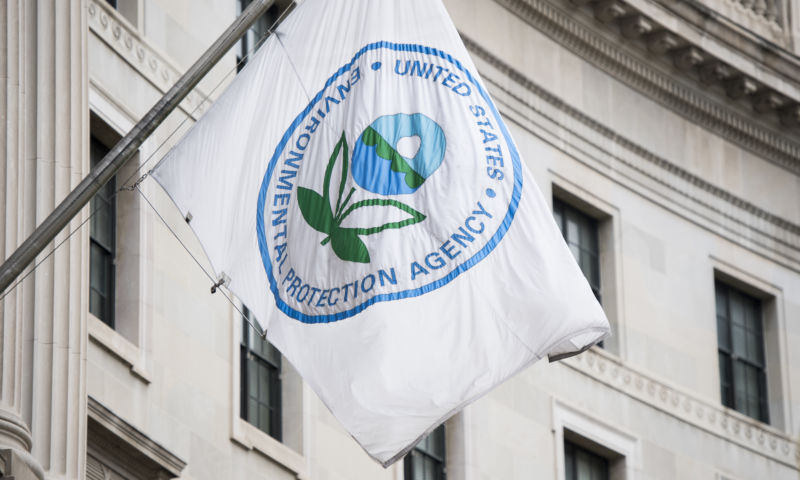 Enlarge / A flag hangs over an entrance to the Environmental Protection Agency in Washington on April 22, 2017. (Photo By Bill Clark/CQ Roll Call) (credit: Bill Clark / CQ Roll Call / Getty Images)
A top aide appointed to work in the Environmental Protection Agency's (EPA) Office of Public Affairs has been allowed to take outside consulting work for private clients whose names remain redacted.
The aide, John Konkus, was a part of the Trump administration's transition team after the 2016 election and was appointed as the associate administrator for the EPA's Office of Public Affairs in early 2017. This summer, the EPA's ethics lawyer signed off on Konkus' request to take outside work from private clients, but, according to the Associated Press, the in-house lawyer noted that "Konkus' outside contracts presented a 'financial conflict of interest.'" The ethics lawyer barred Konkus "from participating in matters at EPA that would have a 'direct and predictable' financial benefit for his clients," AP noted. However, it's unclear what those matters are and when Konkus would encounter them in his daily work.
The memo from the EPA's ethics lawyer approving Konkus' work was sent to the House Committee on Energy and Commerce, six months after the committee requested information on conflicts of interest within the agency. According to a letter published by Democrats on that committee (PDF), the memo that the EPA sent to Congress had the names redacted of the two clients for whom Konkus wanted to work.
Source: FS – All – Science – News
EPA says appointee can accept money from secret clients for consulting gigs