Mammals are smaller than they used to be, and it's our fault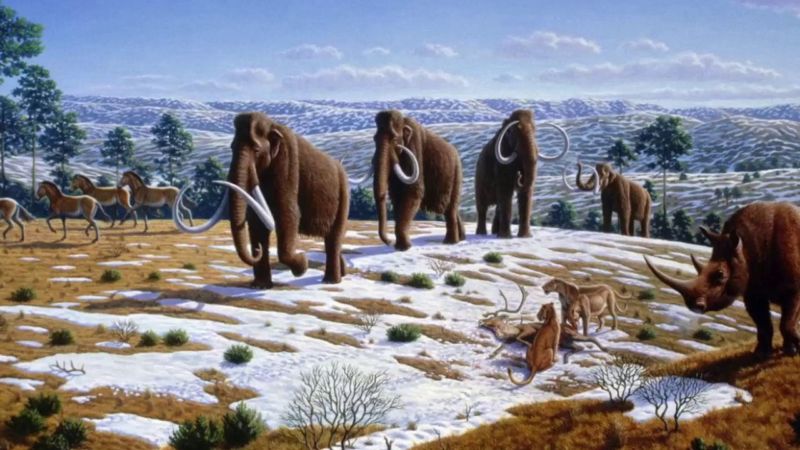 Enlarge / They were big, but we showed up, and they're now gone. (credit: Mauricio Anton)
When the first modern humans ventured beyond Africa during the late Pleistocene, roughly 120,000 years ago, they stepped into a world filled with giants: the 6-ton giant ground sloth in South America, the 2- to 3-ton wooly rhino in Europe and northern Asia, the 350- to 620-pound sabertooth cat in North America, and the 6-ton wooly mammoth in Eurasia and North America. It's hard to imagine a world filled with animals that large: the giants of the Pleistocene quickly vanished, and the animals that survived were, in general, two or three times smaller than those that went extinct. A new study indicates that the late Pleistocene decrease in mammal size coincided with the geographical spread of humans around the world—and the authors say that's not just happenstance.
Human involvement in the disappearance of the Pleistocene megafauna is still the subject of intense debate, but this is hardly the first time we've been implicated. To provide a different perspective on these extinctions, a team of biologists led by Felisa Smith of the University of New Mexico, Albuquerque, decided to look for changes in the pattern of extinctions since the beginning of the Cenozoic period 65 million years ago—the end of the dinosaurs and the beginning of the rise of mammals. Species go extinct all the time at a steady background rate of about one to five species per year. If that rate or the kinds of animals dying off changed after humans started colonizing the world beyond Africa, that could imply that we had something to do with it.
The biologists examined two large datasets. One listed the global distribution and body size of animal species in the late Pleistocene and Holocene, starting 125,000 years ago. The other listed similar information for species spanning the whole Cenozoic. Starting at around 125,000 years ago, the datasets traced a decrease in both the mean and the maximum body size of mammals on every continent, coinciding with the spread of humans into each region. Wherever humans went, mammals got smaller, and big ones tended to die off.
Source: FS – All – Science – News
Mammals are smaller than they used to be, and it's our fault