Meteorite's diamonds tell of Earth's baby sister, which died young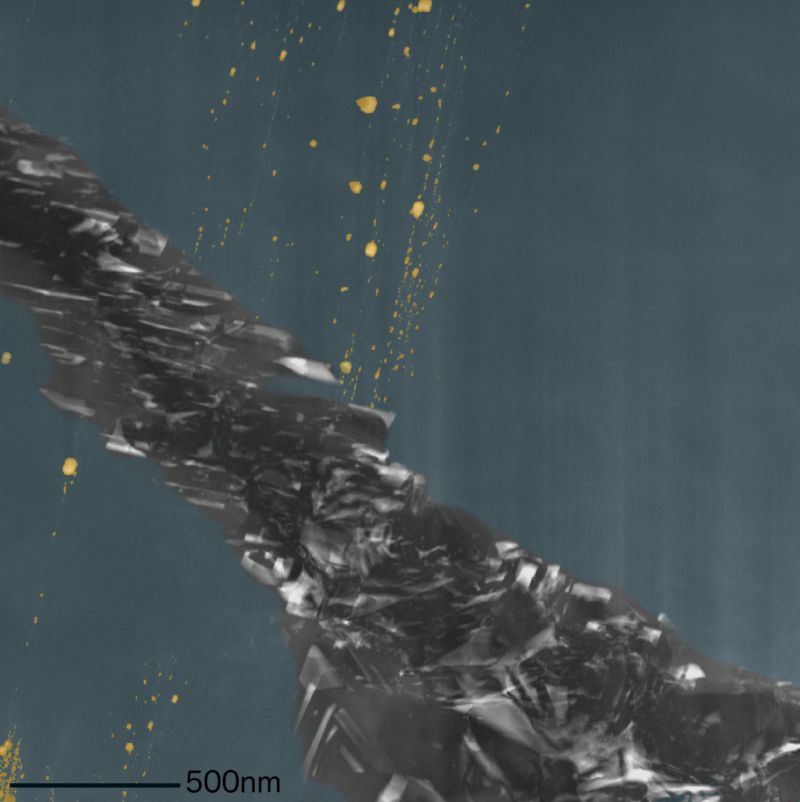 Enlarge / Microscope image showing diamond (blue), graphite (black/gray), and blobs of iron-sulfur minerals (yellow). (credit: Dr. F. Nabiei/Dr. E. Oveisi/Prof. C. Hébert, EPFL, Switzerland)
On Earth, diamonds are time capsules with fascinating stories to tell. After all, they form at great depths—below the tectonic plates that make up Earth's crust. It's only because they travel to the surface with the volcanic equivalent of a jet pack that we're able to see them at all.
But there's another way to get your hands on a diamond: wait for one to crash to Earth inside a meteorite. And in the case of a new study published this week, it might even tell a story of a different planet, one that died in the early days of our Solar System.
Diamonds from space
The meteorite in question fell in 2008 in Sudan and contained a type of meteorite rock called "ureilite" that is composed of minerals you'd only find in the deep mantle of the Earth. Among those minerals were microscopic crystals of diamond and graphite—two minerals composed entirely of carbon atoms.
Source: FS – All – Science – News
Meteorite's diamonds tell of Earth's baby sister, which died young