NASA may fly crew into deep space sooner, but there's a price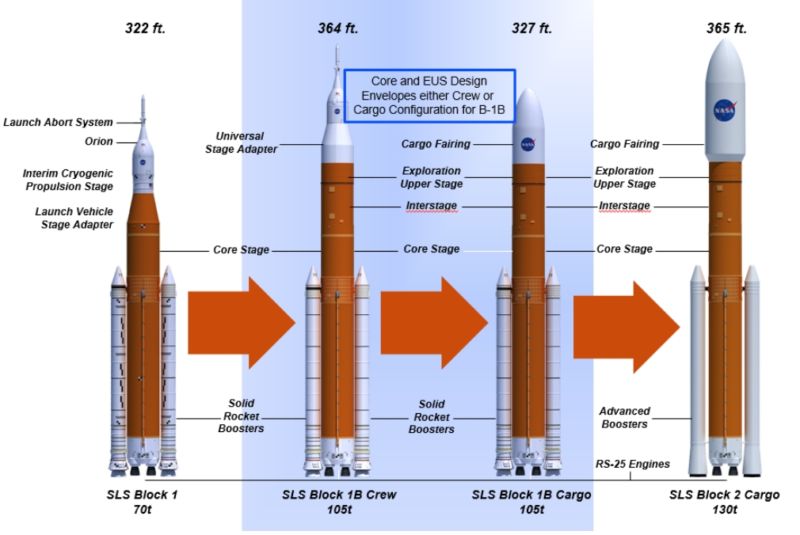 Enlarge / Various configurations of the SLS rocket. (credit: NASA)
NASA will likely launch its first astronauts into deep space since the Apollo program on a less powerful version of its Space Launch System rocket than originally planned. Although it has not been officially announced, in recent weeks mission planners at the space agency have begun designing "Exploration Mission 2" to be launched on the Block 1 version of the SLS rocket, which has the capability to lift 70 tons to low Earth orbit.
On Thursday, during a Congressional hearing, the agency's acting administrator, Robert Lightfoot, confirmed that NASA is seriously considering launching humans to the Moon on the Block 1 SLS. "We'll change the mission profile if we fly humans and we use the Interim Cryogenic Propulsion Stage (ICPS), because we can't do what we could do if we have the Exploration Upper Stage," Lightfoot said.
The key difference between the original configuration of the SLS rocket—which NASA has spent more than $10 billion developing since 2011—and its successor is the upper stage that sits atop the booster. Under current plans, the weaker upper stage, known as the ICPS, was to fly only once—on the maiden flight of the SLS rocket in 2020. Then, NASA was to switch to a new, much more powerful second stage that would increase the SLS rocket's overall performance by about 50 percent.
Source: FS – All – Science – News
NASA may fly crew into deep space sooner, but there's a price