NASA says Christina Koch will spend 328 days in space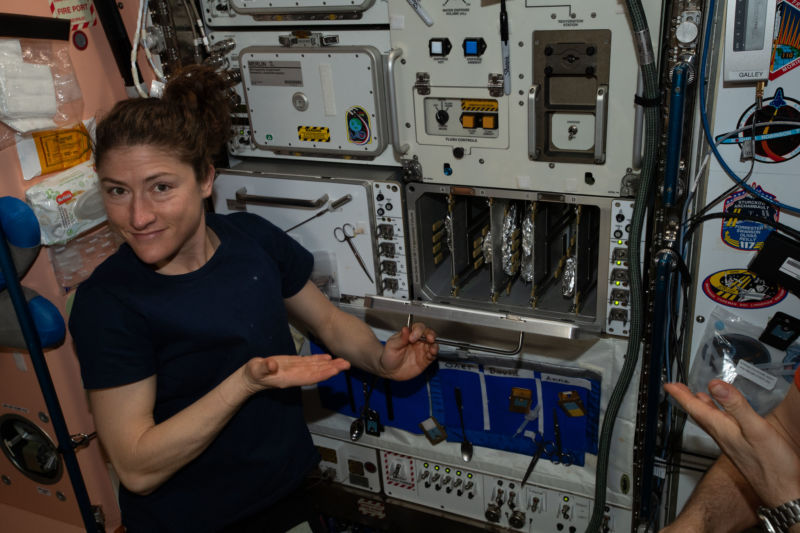 Enlarge / There will be a
lot of pizza nights for Christina Koch, NASA's newest extended-stay
astronaut. (credit: NASA)
On Wednesday morning, NASA announced that Christina Koch, who is
already living on board the International Space Station, will
extend her mission to 328 days. By doing so, she will become the
space agency's second astronaut to spend nearly a year inside the
orbiting laboratory.
"It feels awesome,"
Koch said in a video interview from the station. "I have known
that this is a possibility for a long time, and it's truly a dream
come true to know that I can continue to work on the program that I
have valued so highly my whole life, to continue to contribute to
that, to give my best to that for as long as possible is a true
honor and a dream come true."
Koch launched to the station on March 14, along with Aleksey
Ovchinin and Nick Hague. As a result of the schedule adjustment,
she is now expected to remain in orbit until February 2020, when
she returns in a Soyuz spacecraft with NASA astronaut Luca
Parmitano and Roscosmos cosmonaut Alexander Skvortsov. By doing so,
Koch will set a record for the longest single spaceflight by a
woman, surpassing the 288 days NASA's
Peggy Whitson spent in space from 2017 to 2018.
Source: FS – All – Science – News
NASA says Christina Koch will spend 328 days in space