Natural gas is now getting in the way; US carbon emissions increase by 3.4%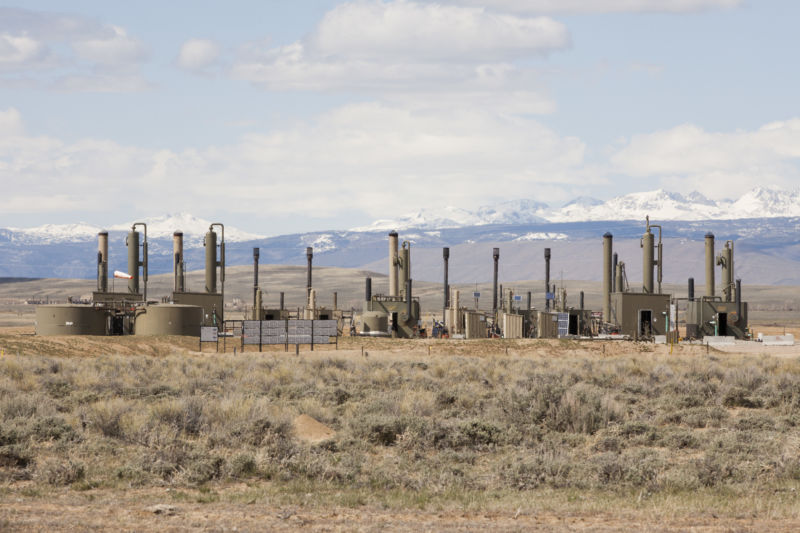 Enlarge / PINEDALE, WY –
MAY 3: A natural gas facility stands on the Pinedale Anticline, on
May 3, 2018 in Pinedale, Wyoming. (Photo by Melanie Stetson
Freeman/The Christian Science Monitor via Getty Images) (credit:
Getty Images)
"The US was already off track in meeting its Paris Agreement
targets. The gap is even wider headed into 2019."
That's the dire news from Rhodium Group, a research firm that

released preliminary estimates of US carbon emissions in 2018.
Though the Trump administration said it would exit the Paris
Agreement in 2017, the US is still bound by the agreement to submit

progress reports until 2020. But the administration
has justified regulatory rollbacks since then, claiming that

regulation from the US government is unnecessary because
emissions were trending downward anyway.
But it appears that emissions have increased 3.4 percent in 2018
across the US economy, the second-largest annual increase in 20
years, according to Rhodium Group's preliminary data. (2010, when
the US started recovering from the recession, was the largest
annual increase in the last two decades.)
Source: FS – All – Science – News
Natural gas is now getting in the way; US carbon emissions increase by 3.4%