New electrolyte recipe keeps lithium-ion batteries from catching fire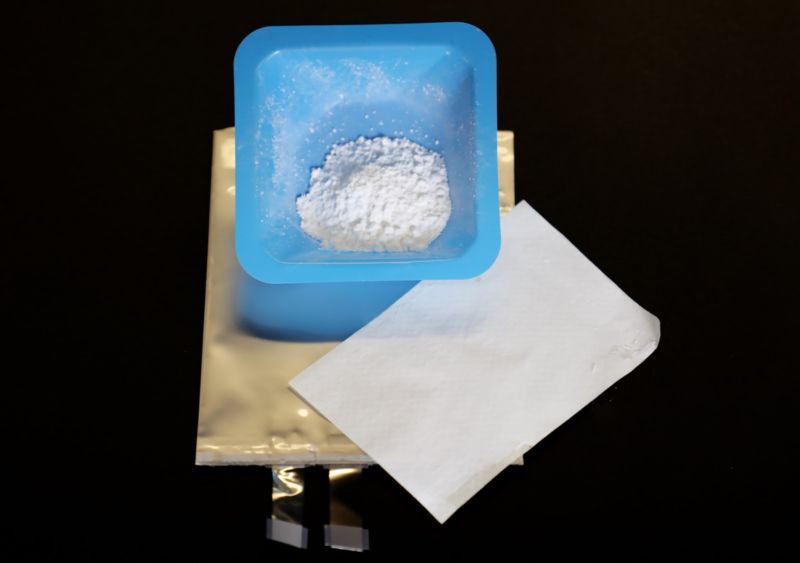 Enlarge / Adding powdered silica to the electrolyte used in lithium-ion batteries keeps them from catching fire. (credit: Gabriel Veith)
Exploding lithium-ion batteries can wreak havoc on airline flights or in waste facilities after people toss their old electronics into the trash. Now, scientists at Oak Ridge National Laboratory (ORNL) have come up with a new chemical recipe that could combat the problem.
A lithium battery has two electrodes, separated by a thin plastic sheet and submerged in a liquid electrolyte—that's a chemical medium (usually a flammable lithium-ion fluid) that allows charge to flow between a lithium-ion cathode to a carbon anode. When that thin plastic sheet breaks (due to too much jostling in the cargo hold of an airplane, for instance), the electrodes can come together, shorting out the battery. This produces heat, which can ignite the liquid electrolyte, and boom! You have a small fire in the cargo hold.
That's why the FAA prohibits anything containing lithium-ion batteries in checked baggage. In 2017 alone, the agency reported 46 incidents of exploding batteries on airplanes.
Source: FS – All – Science – News
New electrolyte recipe keeps lithium-ion batteries from catching fire