New gel lets us spread flame retardant before wildfires start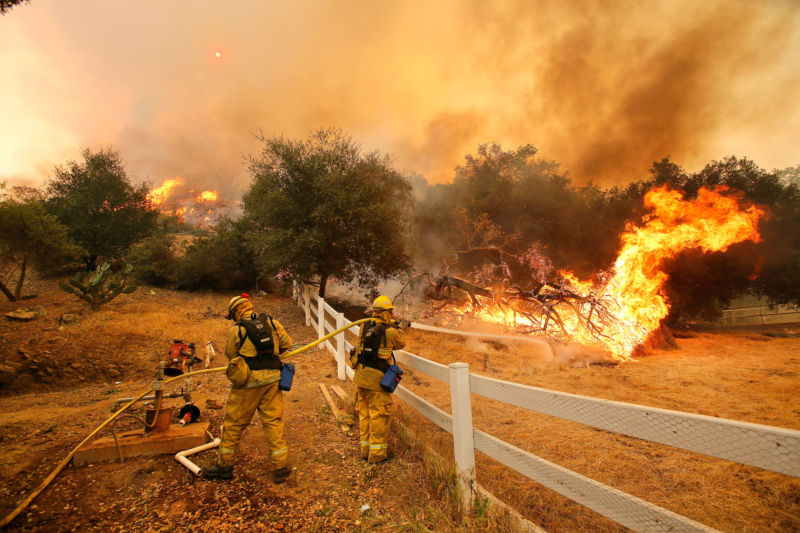 Enlarge / Firefighters
from Stockton, Calif., put out flames off of Hidden Valley Rd.
while fighting a wildfire, Friday, May 3, 2013 in Hidden Valley,
Calif. (AP Photo/Los Angeles Times, Mel Melcon) (credit:
flickr user: Daria Devyatkina)
The last few years have seen
horrific fire seasons in California, resulting in destruction,

deaths, and economic damage. And with climate change continuing
unabated, things are
set to get worse.
Prevention is better than firefighting; avoiding
carelessness is one way to reduce the huge number of
human-caused wildfires. But a paper in PNAS this week reports a new
option for wildfire prevention: a fire retardant-carrying gel that
coats vegetation in a thin film, keeping that vegetation safe from
fire long enough to see it through fire season. If it is
demonstrated to be safe, it could allow us to spray high-risk areas
at the start of fire season and keep protection through until heavy
rains start.
Short-term retardants
Wildfire plays an important ecological role, but human
activities make the natural fire season much worse—hot dry
weather has tripled the length of the season, while humans cause 85
percent of fires. None of the fire retardants available at the
moment last for very long. Some of them can stop a fire only as
long as they're wet. Once the water in these gels has evaporated
(which can happen in less than an hour thanks to the heat of a
wildfire), they're no longer effective.
Source: FS – All – Science – News
New gel lets us spread flame retardant before wildfires start