Offshore, Act Two: New owner repowers 20-year-old wind farm off Swedish coast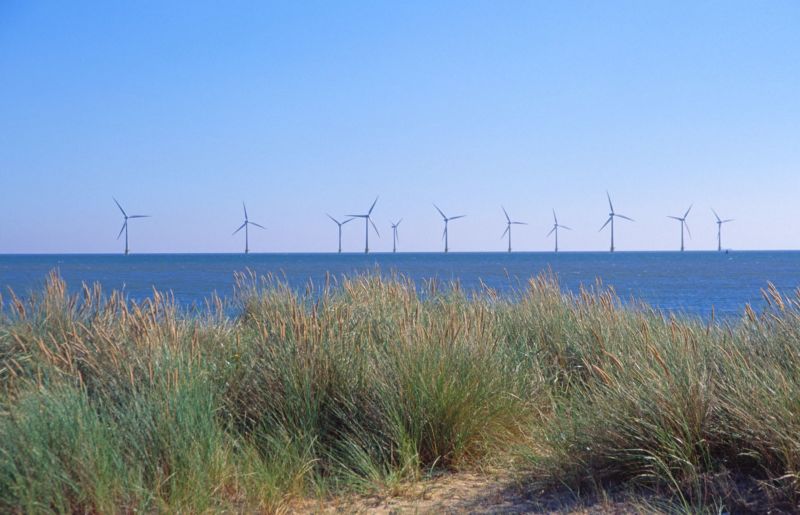 Enlarge / Scroby Sands
offshore wind farm, Caister, Great Yarmouth, Norfolk, England.
(credit: Photo by: Geography Photos/UIG via Getty Images)
In November, a Danish asset management group called Momentum
Gruppen recommissioned five turbines at a 20-year-old offshore wind
farm located 4km (2.5 mi) off the coast of Sweden. Momentum
purchased the wind farm and upgraded the nacelles, blades, and
control systems while leaving the towers, foundations, and
transmission equipment. The turbines were originally rated to
produce 500 kilowatts (kW) apiece. The upgrades were done with 600
kW turbine replacement equipment.

According to GreenTechMedia, it's the first such repowering of
an old offshore wind farm. As Europe's first offshore turbines age,
it represents a possible long-term future for Europe's clean-energy
fleet. Although onshore wind farm owners have been repowering
their equipment for years, offshore repowering comes with its
own technical challenges.
In 2017, Dong Energy
dismantled the first-ever modern offshore wind farm, built in
1991 off the coast of Denmark. It had been in operation for 25
years. (One turbine was preserved for display at the Danish Museum
of Energy.)
Source: FS – All – Science – News
Offshore, Act Two: New owner repowers 20-year-old wind farm off Swedish coast