"Precious hours were wasted": Trump's doctored map affected hurricane forecasters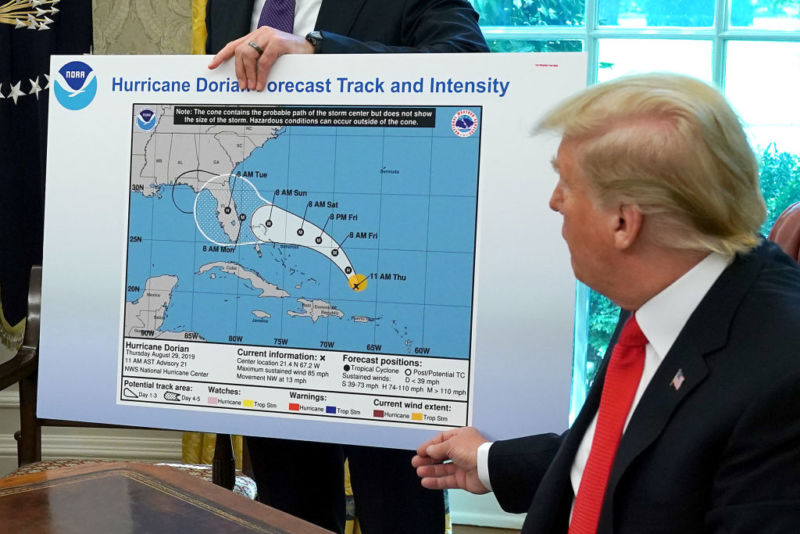 Enlarge / US President
Donald Trump references a map held by acting Homeland Security
Secretary Kevin McAleenan on Wednesday. (credit: Chip
Somodevilla/Getty Images)
On Wednesday, when President Donald Trump was showing off

a doctored hurricane forecast in the White House Oval Office,
forecasters at the National Hurricane Center were mortified.
It was a critical moment for the federal tropical cyclone
experts because Hurricane Dorian had begun to show signs of
re-intensifying—it would later become a major hurricane
again—and its track appeared increasingly likely to bring the
storm's center ashore somewhere in the Carolinas. Two sources in
the Miami-based hurricane center told Ars that Trump's "update" on
Hurricane Dorian effectively paralyzed operations.
After Trump spoke, the forecasters' cell phones buzzed with
incessant distractions. Media briefings were stopped for the
afternoon. "Precious hours were wasted," one official at the center
told me. "We aren't going to put out bad forecasts, but we need
to keep the eye on the ball here."
Source: FS – All – Science – News
"Precious hours were wasted": Trump's doctored map affected hurricane forecasters