Report: Carbon-capture group gets some serious lobbying muscle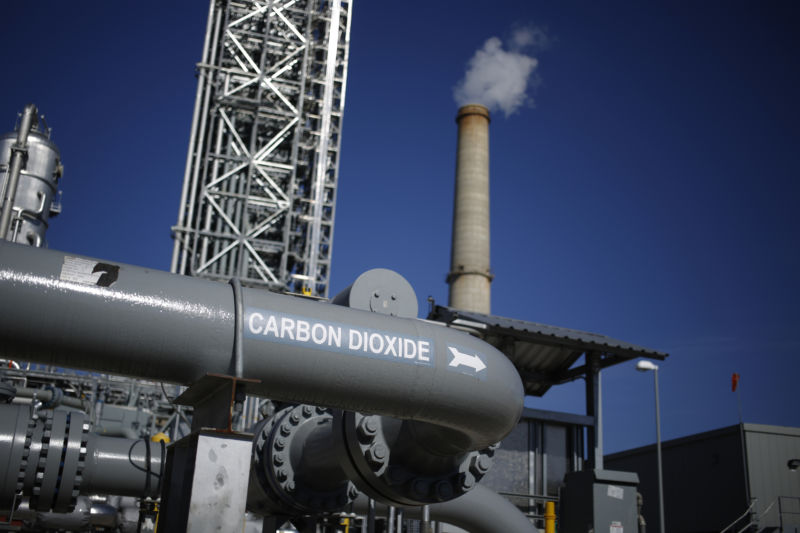 Enlarge / A pipe installed
as part of the Petra Nova Carbon Capture Project carries carbon
dioxide captured from the emissions of the NRG Energy Inc. WA
Parish generating station in Thompsons, Texas, on Thursday, Feb.
16, 2017. (credit: Luke
Sharrett/Bloomberg via Getty Images)
On Tuesday,
Beltway news site Axios reported that a carbon-capture-focused
lobby created last year has teamed up with the National Association
of Manufacturers (NAM), a powerful lobbying association with
lots of resources. The news suggests that proponents of carbon
capture and storage (CCS) are getting more serious about pulling
strings in Washington after new tax credits were approved last
year.
The carbon-capture lobby, called the Energy Advance Center
(EAC), was
listed last year in April. In 2018, the lobby spent $80,000 on
CCS-related lobbying and retained three lobbyists,
according to Open Secrets. EAC is supported by oil companies
like BP and Chevron, as well as power firm Southern Company and
technology firm Mitsubishi Heavy Industries.
According to Axios, EAC is now under the umbrella of NAM. That
means it will be able to use the lobbying association's resources
to push for more advantageous terms for carbon-capture projects and
protect the nascent industry's new tax credits in the future. Ars
Technica contacted NAM and did not receive a response.
Source: FS – All – Science – News
Report: Carbon-capture group gets some serious lobbying muscle