Revised CA vaccine bill would revoke exemptions from infamous anti-vax doc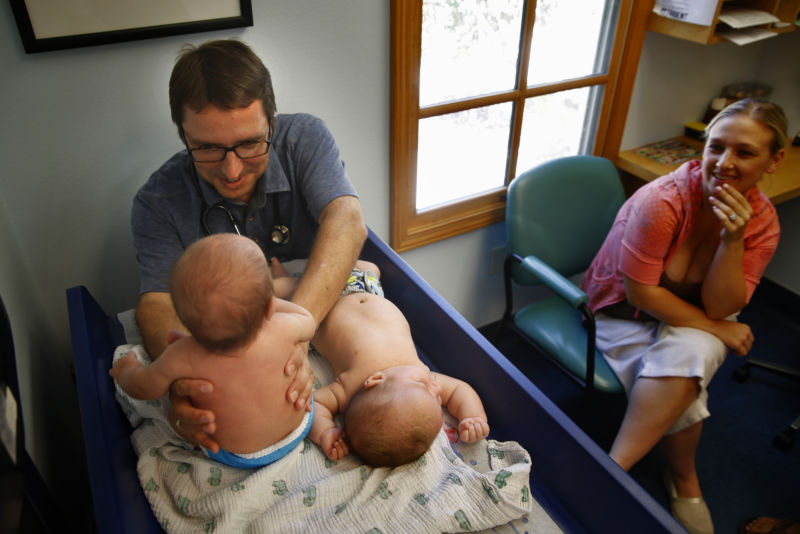 Enlarge / Dr. Robert Sears
examines 2-month-old twins. Sears is among the doctors who have
been found to have issued fraudulent medical vaccination
exemptions. (credit:
GettyDon Bartletti)
Hundreds of dubious medical exemptions handed out by
California's infamous anti-vaccine pediatrician, Dr. Robert
Sears, would be revoked under fresh amendments to a state bill
designed to boost vaccination rates.
The bill's author, state Senator (and MD) Richard Pan
(D-Sacramento), came to an agreement on the amendments late last
week with California Gov. Gavin Newsom.
The bill, SB 276, aims to crack down on bogus medical
exemptions, which surged in the wake of the state's 2015 law
eliminating vaccine exemptions based on personal and religious
beliefs. Dr. Pan was prompted to author the bill after discovering
that
some "unscrupulous" doctors had been exempting children
from vaccine requirements based on questionable or outright sham
medical reasons—sometimes for hefty fees. The exemptions left
some communities under-protected from vaccine-preventable
illnesses.
Source: FS – All – Science – News
Revised CA vaccine bill would revoke exemptions from infamous anti-vax doc