Scientists solve the mystery of Rembrandt's "impasto" paint recipe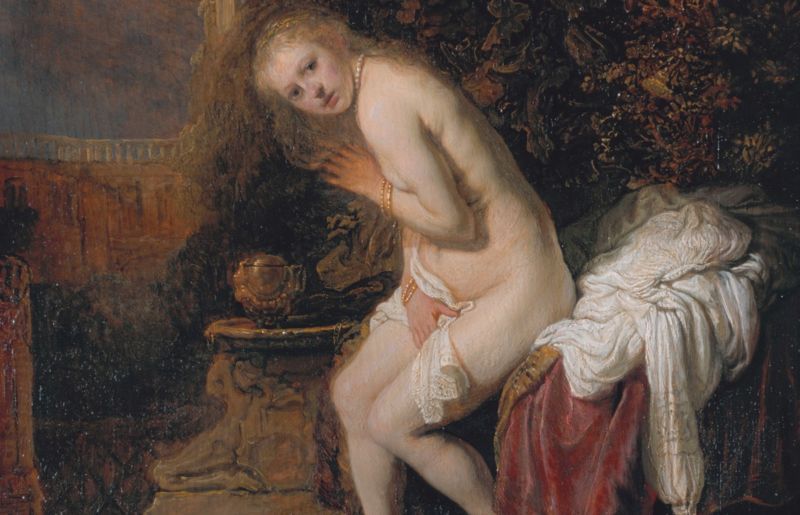 Enlarge / Detail from
Rembrandt van Rijn's Susanna (1636), one of the paintings analyzed
by Dutch and French scientists using X-ray synchrotron radiation to
determine paint composition. (credit: Public domain)
The 17th century Dutch master Rembrandt van Rijn is justly
considered one of the greatest artists of all time. He's
particularly praised for his masterful depiction of light and
shadow in his oil paintings, an almost three-dimensional effect
achieved with his signature "impasto" technique. The
recipes he used to mix his paints were believed to be lost to
history. But now a team of Dutch and French scientists has used
high-energy X-rays to unlock Rembrandt's secret recipe, according
to a
new paper in the journal Angewandte Chemie.
Impasto (translated as "dough" or "mixture") involves applying
paint to the canvas in very thick layers. It's usually done with
oil paint because of the thick consistency and slow drying time,
although it's possible to add acrylic gels as a thickening agent to
get a similar effect with acrylics. Rembrandt used it to represent
folds in clothing or jewels, among other objects, in his paintings.
As David Bressan
notes at Forbes, "The layer causes light to reflect in certain
ways, giving the painting interesting dark and light contrasts and
a three-dimensional effect."
Like most artists of his era, Rembrandt mixed his own paints,
experimenting with different recipes to get different desired
effects. Common materials then included lead white pigment
(produced via the corrosion of metallic lead) and organic
substances like linseed oil. But nobody knew the precise recipe the
master used to create the impasto effect.
Source: FS – All – Science – News
Scientists solve the mystery of Rembrandt's "impasto" paint recipe