Study brings us one step closer to solving 1994 thallium poisoning case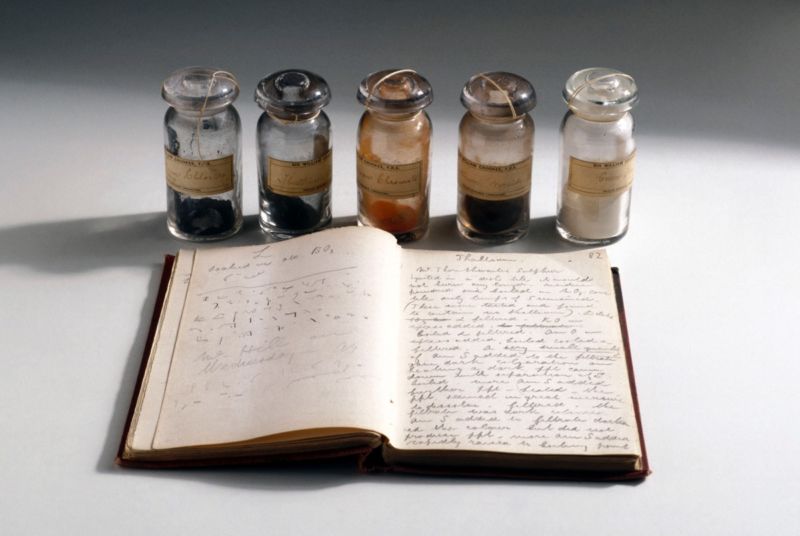 Enlarge / The 1861 notebook
of Sir William Crookes, containing all his data on thallium
samples. (credit: SSPL/Getty Images)
There's rarely time to write about every cool science story that
comes our way. So this year, we're running a special Twelve Days of
Christmas series of posts, highlighting one story that fell through
the cracks each day, from December 25 through January 5. First up:
a tale of attempted murder and the geologist who hopes he can help
solve the case.
A new
trace analysis of the victim's hair sheds fresh light on a
famous unsolved cold case by establishing a timeline for the
thallium poisoning
of Chinese college student Zhu Ling in 1994.
Published in October in the journal Forensic Science
International, the work could one day lead to catching the culprit,
and could help solve future heavy-metal poisonings.
Zhu Ling was a sophomore majoring in physical chemistry at
Tsinghua University in Beijing, China, when she mysteriously began
losing hair, with accompanying stomach pain and muscle paralysis,
sinking into a coma four months later. Doctors were initially
baffled, but friends posted her symptoms to a Usenet group, drawing
attention to Zhu Ling's plight—likely the first telemedicine
trial. Physicians around the world agreed the likely cause was
thallium poisoning (a toxic heavy metal sometimes used in rat
poison), and her doctors treated her with the commercial dye
Prussian blue, the most common antidote.
Source: FS – All – Science – News
Study brings us one step closer to solving 1994 thallium poisoning case