Study: Famed Domesday Book was completed later than historians thought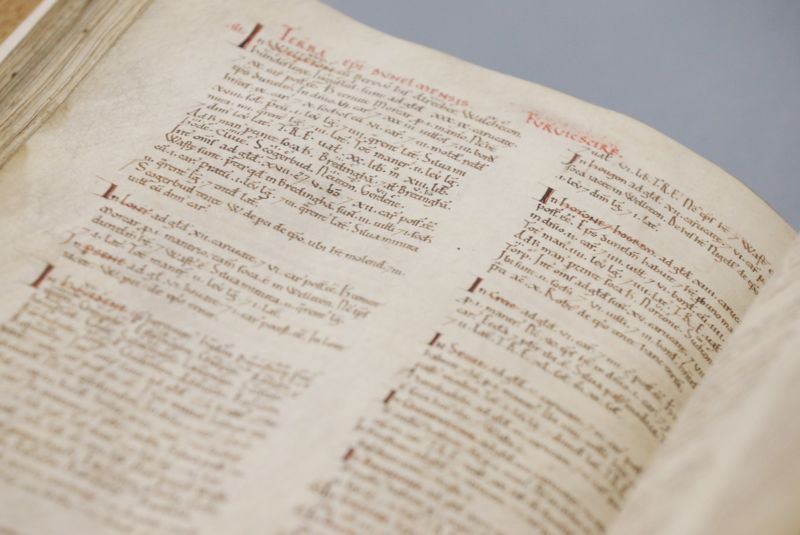 Enlarge / Original
manuscript of the Domesday Book on display at The National Archives
in Kew, London. Satellite documents preserved by a Benedictine
abbot named Nigel place its completion date much later than
previously assumed. (credit: Jonathan Brady/PA
Images/Getty Images)
At Christmas in 1085, William the Conqueror decided to
commission a kingdom-wide survey of England, sending census takers
into every shire to take stock both of the population and its
resources: land, livestock, castles and abbeys, and so forth. The
result was the Domesday Book, a tome that provided an unparalleled
record of daily life in 11th-century England, long revered and
studied by medieval historians. It
got its moniker because the English complained that its
decisions could not be appealed, just like on the Day of
Judgement.
Traditionally, historians have pegged the date of completion for
the Domesday Book as 1087. This puts it about one year after
William decreed his survey but just before he sailed off to die
(quite
ignobly) in Normandy while defending his kingdom from the
French. But a
recent paper in the journal Speculum by Carol Symes, a
historian at the University of Illinois, argues that the final book
was actually
completed years, maybe even decades, later than that.
Symes' expertise is investigating how medieval manuscripts were
made, and the Domesday Book is the most complicated medieval text
there is. "After the Magna Carta, the Domesday Book is the most
fetishized document in English history, and with good reason," she
said. "It's one of the few medieval documents you can do data
analysis with, because there's actual data in there."
Source: FS – All – Science – News
Study: Famed Domesday Book was completed later than historians thought