Tiny krill appear to mix up the ocean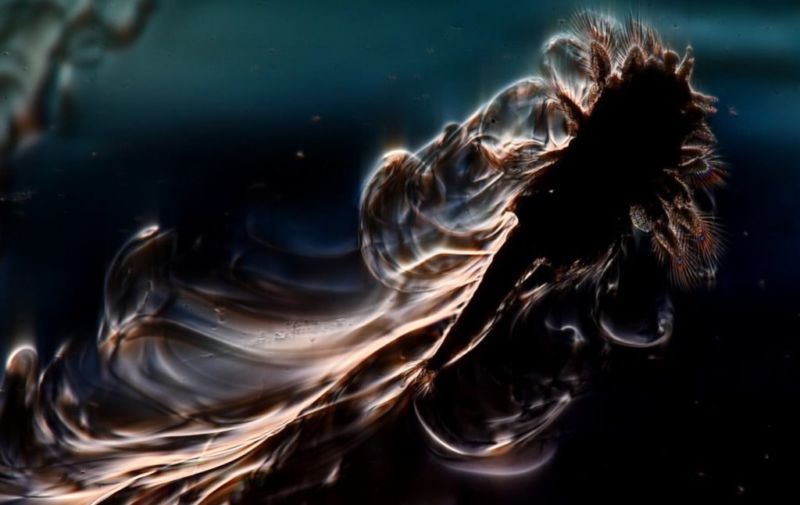 Enlarge / Differences in the density of water reflect light to show the complex mixing generated by a moving brine shrimp. (credit: Isabel Houghton, image obtained with the assistance and facilities of R. Strickler)
If you've heard of krill at all, it's probably in the context of their role as whale food. Nature programs love to point in amazement to the fact that the largest animals on the planet subsist on some of the smallest, namely the krill. But these tiny animals exist independently of their function as food, and a new study suggests that they and their peers may have a significant role in their ecosystems: mixing up the top layers of the ocean.
Krill are crustaceans, as a careful look at them will indicate (although Wikipedia tells us that the cool-sounding name "krill" is simply Norwegian for "small fry of fish"). They don't tend to grow much larger than a couple centimeters in length, and they feed on even smaller creatures, taking tiny photosynthetic plankton and moving them up the food chain.
But what they lack in size, they make up for with truly astonishing numbers, with some species estimated as having one of the largest total biomasses of anything on Earth. It's these vast numbers that make them a viable food for the world's largest creatures and give them the ability to replace the vast numbers gulped down by whales. It's also at the heart of the new results.
Source: FS – All – Science – News
Tiny krill appear to mix up the ocean