Vice President may tell NASA to accelerate lunar landings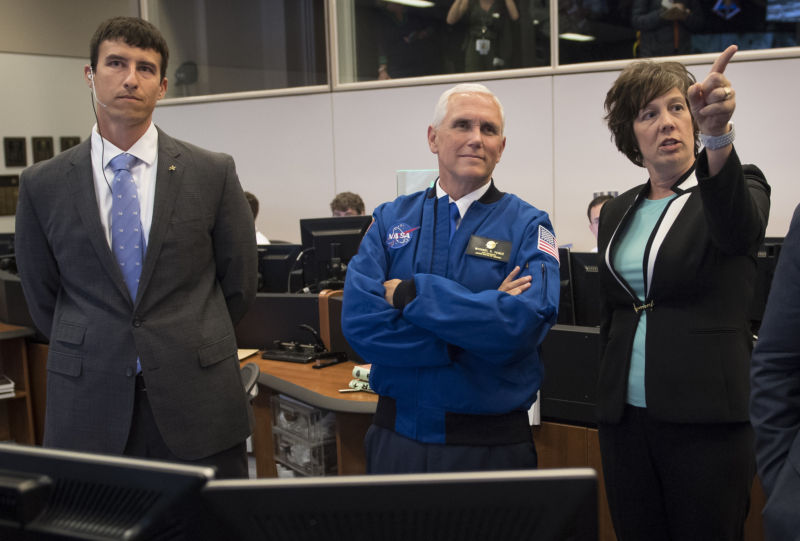 Enlarge / Vice President
Mike Pence, center in Mission Control Houston, will oversee all
space decisions made by the Trump administration. (credit: NASA)
One of the panelists who will appear at a National Space Council
meeting next Tuesday said to expect "a few fireworks" during the
discussion, which will focus on NASA's efforts to return humans to
the Moon. The meeting of this council that oversees US spaceflight
policy will be held in Hunstville, Ala., and led by Vice President
Mike Pence.
University of Colorado Boulder astrophysicist Jack Burns, one of
six speakers scheduled for the meeting, said the current timeline
for NASA to send humans to the Moon lacks urgency. NASA has talked
about landing its astronauts on the Moon before the end of the
2020s, and the president's budget proposal for the coming fiscal
year allows for this to happen as early as 2028.
"The timeline is too slow, and that's one of the things that I'm
going to be talking about next Tuesday," Burns said. If pushed, how
soon could NASA put humans back on the Moon? The year 2025, Burns
replied. "And I know some in the administration would like to do it
even faster than that," he added. "We're going to see a few
fireworks."
Source: FS – All – Science – News
Vice President may tell NASA to accelerate lunar landings